"Tutti frutti! Oh rudy…"
My granddaddy loved him some Little Richard. Throughout my childhood, he'd walk around the house and randomly break into song.
"Ah-whop bop b-luma b-lop bam boom!"
I cannot think of Little Richard without thinking about my grandpa. As I type, the world is mourning his death and I am in the number. It feels like another piece of my childhood died with Mr. Penniman. Little Richard has been in the periphery of my entire life.
As I came of age, I started to grapple with my sexuality and my perception of him changed. He became part of my mental handbook I used to navigate my sexuality. He was Southern, Black and queer. He was also loud as hell. Just like me.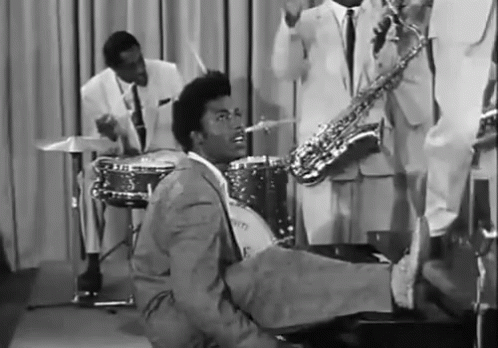 Richard publicly struggled with his queerness and although I considered him a queer possibility model, he was also a cautionary tale. Until my early 20s, I thought I would have to live in the closet. I was scared what people would think if I came out. I surmised playing straight would keep me out of hell, real Bible belt shit. It took years but I was able to get over that, for the most part. I still struggle with internalized heteronormativity but I'm comfortable with my love of women.
I'm able to be proud of my sexuality because of Black, queer ancestors like Marsha P. Johnson, Audre Lorde and now, Little Richard. In 2017, Richard denounced homosexuality due to his religion after spending decades being open about his desire for men. I was sad when I heard that news, but I never had any contempt for him. It wasn't the first time he acted out his self-hatred.
He was born in 1932. Little Richard had to leave his family home in his early teens because his father refused to accept Richard's effeminate nature and sexuality. In the late 50s and early 60s, he bounced between secular and gospel music due to his religious convictions.
The "Tutti Frutti" singer spoke openly about feeling ashamed of his desires.
"My whole gay activities were really into masturbation," he said, according to Billboard. "I'd always be mad after I finished. Be mad at myself, don't want to talk about it, don't wanna answer no questions."
There were times when he spoke about his sexuality and gender expression with relative ease.
He once expressed belief in sexual fluidity to his biographer, Dr. Rock.
"We are all both male and female," he said, per GQ. "Sex to me is like a smörgåsbord. Whatever I feel like, I go for."
In 1995, he flat out admitted he was gay.
"I've been gay all my life and I know God is a God of love, not of hate," the singer said. "How can I [put] down the fisherman when I've been fishing all my life?"
Most LGBTQ people know about that back and forth, in varying degrees, especially our elders.
Richard came up in a time when being LGBTQ was a dirty secret. He knew a world before the Stonewall Riots. He once lived in a world that wouldn't have dreamed of allowing a Pride parade. Richard also experienced a world with an active Ku Klux Klan. A world where being strung up was a real possibility. He saw Jim Crow, segregation and the 1960 movements.
Twenty-first century Blackness and queerness ain't no crystal stair but it ain't got nothing on the 20th century. I have empathy for people like Little Richard because their pain is responsible for my possibilities. There would be no Prince Rogers Nelson, Zaya Wade, Lil Nas X or Ashleigh Atwell without Richard Wayne Penniman.
He was the prototype.
Now, Richard is an ancestor. I hope he found the peace that eluded him in this realm.
He better give my grandpa an autograph, too.